Hot pot is one of my favourite dishes. It is so delicious and so much fun to eat. Hot pot is also super easy to make and requires minimal preparation. Perfect for a relaxed dinner!
The broth
You can use any flavour you like. Asian grocery stores often sell hot pot seasoning. You can buy one of those or make your own. I used two flavours since my hot pot pan has a division in the middle. I bought a mushroom seasoning for the left side of the hot pot. And made a miso broth for the right side.
Ingredients
You can also boil anything you like in the hot pot broth. Below are a few examples of the ingredients I used. But you definitely don't have to limit yourself to those.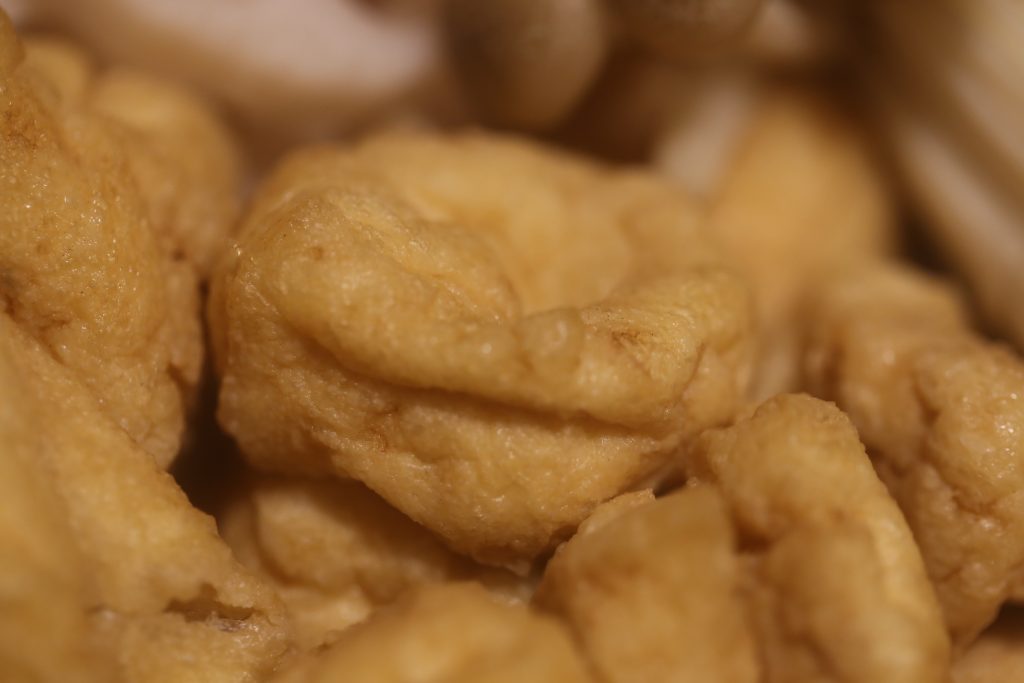 Tools
To have the authentic hot pot experience you'll need a hot pot pan, chopsticks and some hot pot strainer scoops. Stores often sell two types of hot pots. The first type is the more traditional one which you'll have to put on a stove. Often a small portable gas stove is used to put the pan in the middle of the table. And the second type is an electric hot pot pan which does not require a stove but has a build in heating element.
My hot pot pan belongs to the first category. I have a small portable induction stove. So I just use that one to boil the food in the middle of the table. But any type of portable stove would be fine. If you don't have a portable stove perhaps an electric hot pot pan would be the more convenient option.
If you don't have chopsticks or hot pot strainer scoops you can also use other utensils.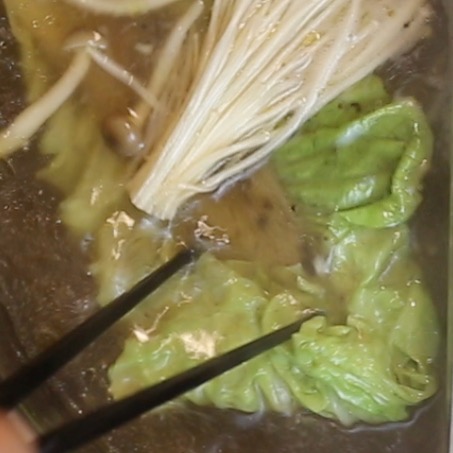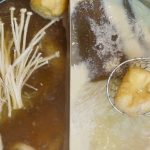 Ingredients
Hot Pot seasoning or 1tbs miso, 1 sheet kombu and a splash of soy milk
Tofu puffs
Soft Tofu
Enokitake mushrooms
Shimeji mushrooms
Konnyaku noodles
Udon noodles
Lotus root
Chinese cabbage
Anything else you'd like to put in the hot pot
Soy sauce or chilli oil for dipping
Instructions
Wash all the vegetables and remove the hard parts of the mushroom stems
Slice the soft tofu. The block should be small enough to scoop out of the hot pot with the strainer scoop or a spoon.
Put all the ingredients in a bowl or on a plate so you can easily add new ingredients to the hot pot.
Not it's time to make the broth. First fill the hotpot with water and turn the heath on. The amount of water should be enough to cover all the ingredient which you'll be adding soon. 
When the water is boiling you can add your instant hot pot seasoning. Or you can add 1 tsp of miso paste, one Kombu sheet and a splash of soy milk.  Or any other flavour combination you'd prefer. 
Boil the broth a few minutes until the flavours have dissolved.
Add a few of the ingredients you can pick any ingredients you like.  For example put some tofu puffs, mushrooms and lot root in the hot pot and wait until they are boiled. When they are boiled you can scoop them out and eat them immediately. 
When you've scooped a few ingredients out of the hot pot you can immediately add some new ingredients. This way you'll always have something that's fully cooked and ready to eat.