These vegan mushroom puff pastry cups are my favourite Christmas appetizer. They are so crispy, so creamy and so easy to make!
The Pastry Cups
These puff pastry cups are the easiest cups you'll ever find. The only thing you need are puff pastry sheets. I bought a pack of puff pastry sheets at the grocery store around the corner. Some brands don't use a plant based butter for the puff pastry sheets. So make sure to check the ingredients before you pick one.
Also make sure you read the instructions before you start making the cups. My sheets were stored in the freezer and needed to thaw a few minutes before they were ready to use. When the sheets were ready I just gently placed them in the cupcake holders and molded them into a nice shape.
Bake the sheets according to the instructions on the package. Mine had to be baked 20-25 minutes on 200°C.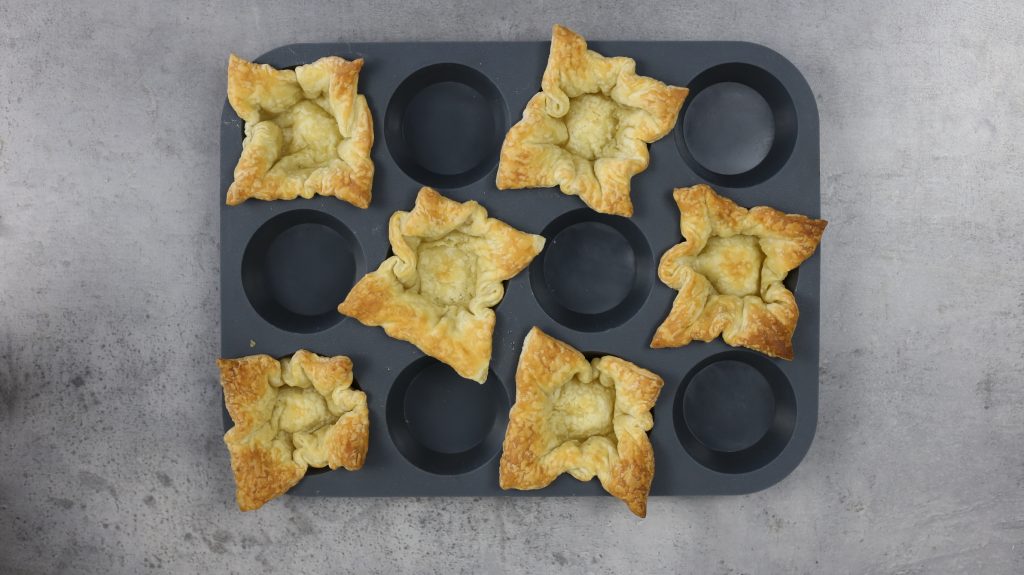 The Ragout
The ragout is also quite easy to make. Just make sure you mix the butter, flour and vegetable broth really well. You don't want any lumps in the sauce before you ad the mushrooms. The sauce will also become thicker when you leave it longer on the stove. If the sauce is too thin just leave it a little longer. And if the sauce is too thick add a little bouillon.
Ingredients
1/2 onion
250g chestnut mushrooms
A little vegan butter to bake the onion and mushrooms
45g flour
40g vegan butter
300ml mushroom or vegetable bouillon
Parsley for garnish
10 puff pastry sheets
Instructions
First make the puff pastry cups
Make the puff pastry sheets by shaping the puff pastry sheets in a cupcake tray.
Bake the puff pastry sheets 20-25 minutes on 200°C.
While the puff pastry cups are in the oven prepare the mushroom ragout.
Wash the chestnut mushrooms
Cut the chestnut mushrooms in slices
Dice the onion
Bake the chestnut mushrooms with the onion in a little vegan butter until they've become soft and you see a little juice.
Set the mushrooms aside and melt 40g butter on low heath in a pan
When the butter has melted add the flour and whisk until they are mixed. The mixture will remain crumbly until you add the bouillon.
Next add a little bouillon and mix until the ingredients are as smooth as possible. Add the remaining bouillon in two parts. You have to whisk the ingredients really well to remove all the lumps.
Next add the mushrooms and stir until the mushrooms are divided equally.
Filling the puff pastry cups
When the puff pastry cups are golden brown you can take them out of the oven and fill them with the mushroom ragout.
Add some parsley on top and you're done!
Enjoy!

Add the