The Sesame Chili Soy Silken Tofu is one of my favourite tofu dishes. Full of flavour and super easy to make. You can use this recipe to make a side dish. Or just add some rice and vegetables for a quick healthy meal.
Silken Tofu
There are a few different types of tofu available on the market. And you can actually make this dish with any type of tofu you prefer. But if you've never tried silken tofu you're definitely missing out. I usually buy the super firm tofu that's available at the grocery store around the corner because it's convenient. But it's just not the same. The silken tofu has such a wonderful smooth and soft texture. So when I have time I go to the asian grocery store that is a bit further away and stock up on some silken tofu to make this recipe.
How to prepare silken tofu?
Silken tofu is very delicate. So be careful when you take the tofu out of the package. To prepare the silken tofu just boil some water in a pan. The water should be enough to cover the entire block of tofu. When the water is cooking carefully place the tofu in the pan and cook for 5 minutes.
The seasoning
When the tofu is cooked you can slice the tofu however you like and add the sauces. The sesame oil, chili oil and tofu blend together so well. If you can't eat spicy food you can leave the chili oil out or add a little less.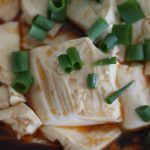 Ingredients
300g Silken Tofu
1 tsp sesame oil
1 tbsp chili oil
2 tbsp soy sauce
Instructions
Carefully remove the silken tofu from the package
Boil enough water to cover the entire block of tofu
Cook the tofu for 5 minutes 
Cut the cooked tofu however you like. You can cut the tofu for example into smaller pieces. Or slice the tofu into a few bigger block.
Add the sesame oil. chili oil and soy sauce. You can mix the sauces before you add them to the tofu of mix them after you've added them to the bowl depending on the shape of your tofu.