Bliss balls are one of my favourite snacks. They are so easy to make so healthy and so delicious.
These chocolate hazelnut bliss balls are made with hazelnuts, dates and a little maple syrup. And coated in some cocoa powder and crushed hazelnut.
If you like bliss balls also check out my coconut lime bliss balls.
Making the Hazelnut Bliss Balls.
For the bliss balls you'll need a high speed processor to blend the hazelnuts, dates and maple syrup. After blending for a couple minutes the ingredients will form a paste that can be shaped into balls.
Scoop a little of the paste and roll it between your hands to make the bliss balls. Squeeze the paste a little before you start rolling to prevent it from crumbling.
Chocolate Hazelnut Bliss Ball Toppings.
To give the bliss balls some extra flavour and texture I've rolled them in cacao powder and crushed hazelnut. The crushed hazelnut also makes the bliss balls look fancy!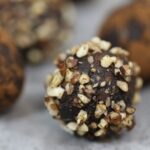 Ingredients
50ml Maple Syrup
160g Hazelnuts
80g Dates
Cocao powder
Crushed hazelnut
Instructions
Blend the maple syrup, hazelnuts and dates in a high speed processor until the become a paste.
Roll the paste into balls by rolling the paste between your hands
Roll each bliss ball in the cacao powder and the crushed hazelnuts.
Enjoy!