Classy but Simple
The Vegan Cream Cheese Stuffed Dates are really easy to make and also look very beautiful. Perfect for a quick snack on a regular day or to serve as a pretty snack to your guests. Enjoy the dates after preparing or store them in the fridge for a few days.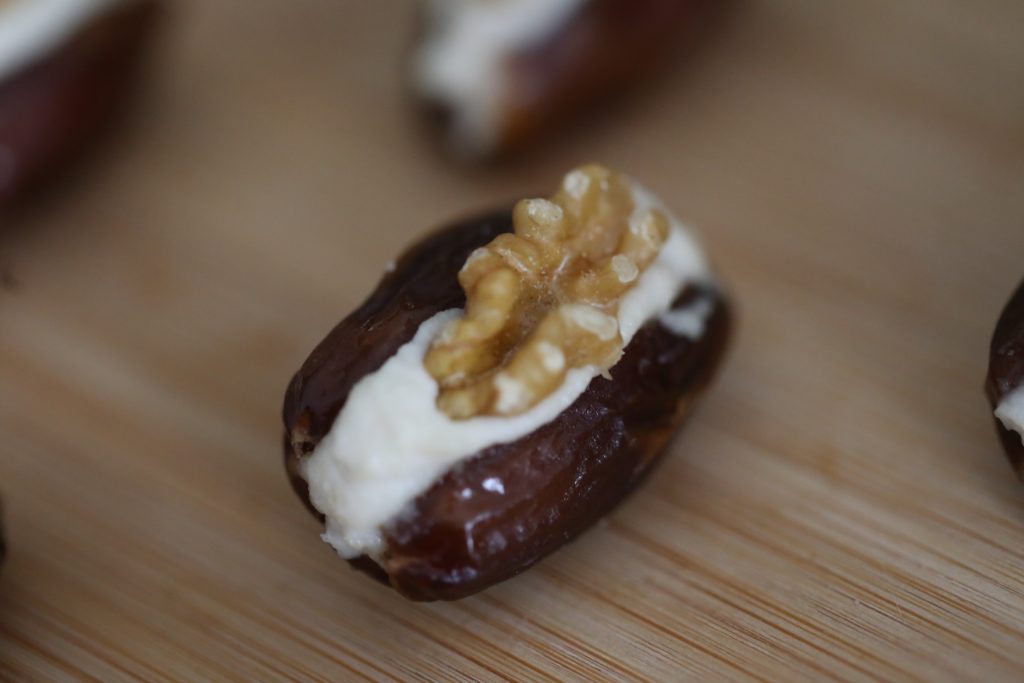 Vegan Cream Cheese
You can use any kind of vegan cream cheese for the stuffed dates. Nowadays you can even buy vegan cream cheese in some grocery stores. My grocery store unfortunately isn't one of those. So I've used my home made vegan cream cheese made from cashew nuts.
Dates
You can also use different dates for the vegan cream cheese stuffed dates. My favourite are fresh Medjool Dates. Because those are large and sweet. But for a quick snack you can also buy cheaper dates. Just make sure they are large enough for the cream cheese and the walnut to fit.
Ingredients
Dates
Vegan Cream Cheese
Walnuts
Instructions
Carefully open the dates and fill them one by one with the vegan cream cheese. Make sure you add enough cream cheese to be able to add the walnut on top.

When you've filled all the dates you can add the walnuts. Depending on the size of your dates you'll have to split the walnuts. My dates were on the smaller side so I carefully broke the walnut pieces in half with a knife.

Enjoy the dates right away or store in the refrigerator to enjoy later.