Perfect Vegan Overnight Breakfast!
Matcha Coconut Chia Pudding is such a wonderful breakfast because it's so easy to make overnight. Just mix the ingredients in the evening and put it in the fridge. By doing so the ingredients will firm up in the evening and the pudding will be perfect in the morning. Instead of preparing, the only you'll have to do in the morning is enjoy your breakfast!
Toppings.
Although the Matcha Coconut Chia pudding is already delicious on its own I love to add some topping to make the pudding look a bit more interesting. Red fruit are in my option one of the best toppings. Not only does the red colour look really nice with the green, the fruit will also add some extra vitamins and taste to the pudding. Because this chia pudding contains coconut milk I've also added some coconut chips for the crunch and look. But you can always make your own combination by adding anything you like or already have at home that goes well with a coconut and matcha flavour.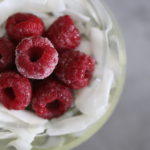 Ingredients
1tsp Matcha Powder
30 ml Coconut Milk
20g Chia Seeds
1tbsp Maple Syrup
200 ml Plant Based Milk
Instructions
Mix the Chia Seeds, Coconut Milk and Plant based milk in a bowl.

Add the Matcha Powder and stir until all the lumps are gone.

Add the Maple Syrup to make the Chia pudding  a little sweeter. If you don't want the Chia pudding to be sweet you can skip this step.

Put the pudding in the fridge for a few hours. I recommend making the pudding in the evening so it can firm up overnight.