No time? Don't Worry.
This vegan blueberry Granola parfait is the perfect breakfast for those who don't have much time in the morning but still want to enjoy their breakfast. It's delicious, pretty and super easy to make.
Energy for the entire morning
The granola does not look like a lot, but will definitely fill you up. Combined with the vegan yogurt and the blueberries you'll not only have a very filling but also a very balanced breakfast that will give you enough energy for the entire morning. If you're not a big eater be aware and just add little less granola.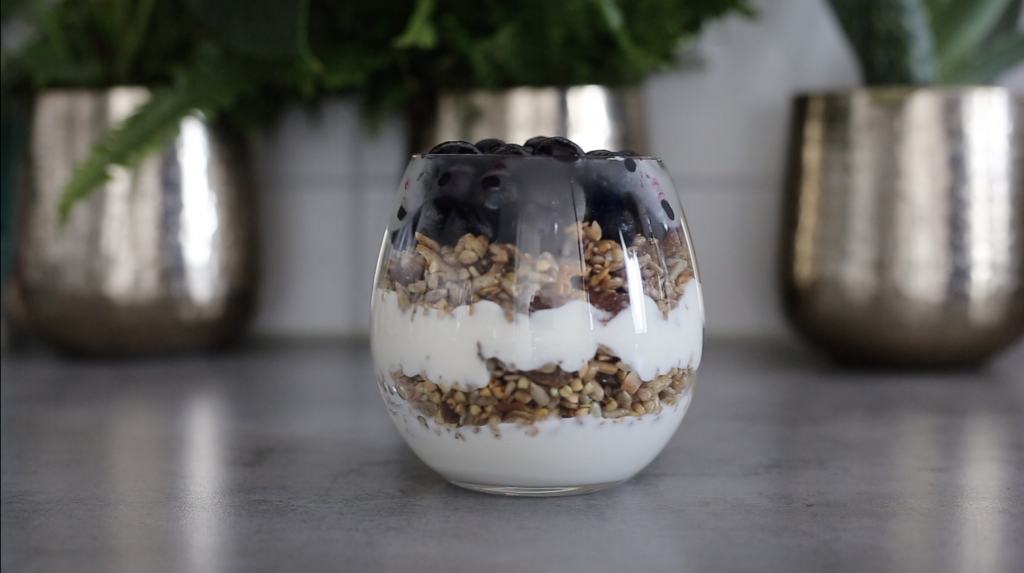 Vegan Granola
You can use any kind of granola for this vegan blueberry granola parfait. Just be sure to read the ingredients because many granola's contain honey. The granola I used in this recipe is a store bought buckwheat granola with raisins and nuts. This is actually the only granola my grocery store has that does not contain honey. But luckily this is a very delicious granola which goes really well with the yoghurt and blueberries.
Plant Based Yogurt
You can also use any kind of plant based yogurt you like. I've used a soy yoghurt with a hint of coconut flavour. If you don't use a sweet yogurt you can also add a little maple syrup for some extra sweetness.
Ingredients
Vegan Granola
Plant Based Yogurt
Maple Syrup (optional)
Instructions
Add a layer of plant based yogurt to a glass or bowl (you can also add some Maple Syrup to the yogurt if you like). Next add a layer of granola. Repeat as many times as you like or until the bowl or glass is filled.

Enjoy!